Posted by
Arms Control Center
in
WMD
, tags:
Al-Nusra
,
Al-Qaeda
,
chemical war
,
chemical weapons
,
Civil War
,
Sarin
,
Syria
,
Syrian Civil War
,
Syrian Revolution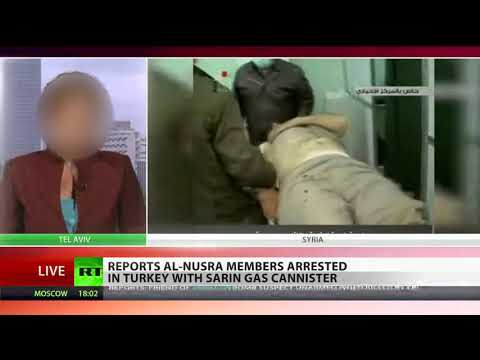 EKEO's Hellenic Security Advisors are carefully monitoring the situation in Syria especially the incident of Sarin gas attack. There is no evidence that the chemical attack was carried out by the Syrian Government and everything indicates an act of provocation by the rebels. This belief is enhanced by the fact that two weeks ago Turkish security forces found a 2kg cylinder with sarin gas after searching the homes of Syrian militants from the Al-Qaeda linked Al-Nusra Front who were previously detained, Turkish media reports. The gas was reportedly going to be used in a bomb.
The sarin gas was found in the homes of suspected Syrian Islamists detained in the southern provinces of Adana and Mersia following a search by Turkish police on Wednesday, reports say. The gas was allegedly going to be used to carry out an attack in the southern Turkish city of Adana.
On Monday, Turkish special anti-terror forces arrested 12 suspected members of the Al-Nusra Front, the Al-Qaeda affiliated group which has been dubbed "the most aggressive and successful arm" of the Syrian rebels. The group was designated a terrorist organization by the United States in December.
Police also reportedly found a cache of weapons, documents and digital data which will be reviewed by police.
Following the searches, five of those detained were released following medical examinations at the Forensic Medicine Institution Adana. Seven suspects remain in custody. Turkish authorities are yet to comment on the arrests.
Russia reacted strongly to the incident, calling for a thorough investigation into the detention of Syrian militants
in possession of sarin gas.
Source RT