Posted by
Arms Control Center
in
ARMED FORCES
, tags:
Chief of the Hellenic Army
,
Christos Manolas
,
General Christos Manolas
,
Greek Army Chief
,
Hellenic Army General Staff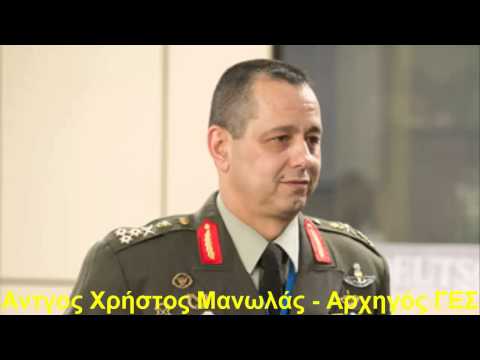 Lt. General Christos Manolas is the new Chief of the Hellenic Army General Staff. His promotion was announced a few hours ago by the Hellenic Ministry of Defence. According to Associate Professor Dr. Theodore Liolios (Hellenic Army Academy Divisional Director – Director of EKEO): "General Christos Manolas has always been one of the brightest and most promising Army officers I have ever taught at the Hellenic Army War College. He combines strategic excellence and knowledge with the ancient Spirit of the Greek Warrior while his determination and ability to train and lead soldiers and officers is exceptional".
The video shows the new Army Chief while the Army Band plays the General Salute tune authorized for a Brigadier General and above.
Here is a short CV of General Christos Manolas:
Date of birth: 19th February 1959 in Athens
Christos Manolas has graduated from the Greek Military Academy in 1980. He has been selected for the Greek Special Forces in 1981 and then served as a Platoon Commander and Company Commanded in the 2nd Para Battalion.
He was then appointed as an instructor to ILRRPS (SOF training) in Weingarten Germany. In 1988 he returns to Greece and is assigned as Chief Instructor to the Greek Unorthodox Warfare Training Centre. He then Commanded a Special Operating Forces Company followed by an Amphibious Special Forces Detachment command (1 993-1 995).
In 1996 he becomes the Commander of the Hellenic Force in Bi-H and he deploys in Bi-H, takes over the Command of the BELUGA Group in the town of Visoko for 2 1/2 years in both IFOR and SFOR missions. In 1998 he graduates from the War College and commands the 1st Para Battalion in 1999.
Starting from 2000-2003 he is assigned to (Joint Command South Centre) JCSC in Tyrnavos Larissa as J3JOC Director and eventually as J3 Branch Chief. In the interim he takes over the command of the Greek Battalion in ISAF I for six months (Dec 01-end of May 2002).
In 2003-2004 he graduates from the Greek National Defence College and he is assigned to the Greek Para Command Brigade as COS. From 2005-2008 he is assigned to SHAPE as ACOS J9 and in 2008 he is promoted to Brigadier General and is assigned to the HNDGS as Head of the Plans and Policy Division. In 2009 he is assigned as Commander of the island of Samos followed by the Command of the Greek NCO Academy in 2010-2011.
In March 2011 he gets promoted to Major General and he assumes Command of the National Guard Division, at Rhodes island. In January 2012 he is assigned as MILREP to the Military Committee of NATO.
In August 2012 he gets promoted to Lieutenant General
He has been awarded with all commemorations and medals of the Greek Army, the NATO Medal and the Belgian Medal for IFOR, since he has commanded Belgian troops in operations (IFOR).
Lieutenant General Christos Manolas speaks fluently English, German, Serbo-Croatian, Bulgarian and has working knowledge of Italian and Spanish.
Married to Maria Sarantakou. They have two daughters, Vasiliki and Theodora at University of Thesaloniki.