Posted by
Arms Control Center
in
WAR ZONE
, tags:
afghan president hamid karzai
,
afghanistan
,
barack obama
,
voice of america
President Barack Obama has discussed the current situation in Afghanistan in an interview with the Voice of America.  The president says his decision to begin withdrawing troops from Afghanistan does not mean the U.S. is abandoning that country.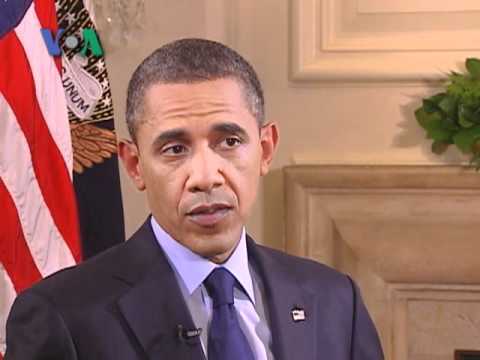 "Keep in mind that we're talking about 10,000 troops by the end of this year, an additional 23,000 by the end of next summer – and we'll still have 68,000 troops there, in addition to the coalition partner troops," President Obama said. "So there is still going to be a substantial presence.  But what it does signal is that Afghans are slowly taking more and more responsibility."
Phased transition
The president says his decision is consistent with what he called a phased transition process.
"Already there are Afghans out there every day who are fighting the fight, Afghans who are dying on behalf of their country, and their freedom, and their dignity," he noted.  "And what we want to make sure of is that we continue to be a good partner with that process, but also want to send a signal to the Afghan people: this is your country ultimately and you are going to have responsibilities."
Common ground
In recent months, Afghan President Hamid Karzai has been critical of the United States.  But President Obama says overall, he shares the same goals.
"Obviously, there are going to be tensions in a difficult environment where we have a large number of foreign troops inside a country," Obama said.  "It is true that there have been times where the tactics on the ground, day to day, result in tensions.  But overall, his interest in making sure that Afghanistan is not a safe haven for terrorists, that there is an adherence to the Afghan constitution.  Those commitments that he's made are the ones that are entirely consistent with what I see as U.S. interests."
Peace prospects
President Obama emphasized that there has to be a political settlement to bring about genuine peace in the region.
"But the terms of that political settlement are important, and we've been very clear in our criteria," he stressed.  "We will encourage the Afghans, and we ourselves will talk to anybody.  But they are going to have to break ties with al-Qaida, they are going to have to pledge to abide by the Afghan constitution and they will have to cease violence as a means of bringing about political power.  If they take those steps, then I think there is a strong possibility of creating the kind of political settlement that would finally give Afghans relief from 30 years of war."
Pakistan
As for relations between the United States and Pakistan, Obama says that relationship has become more honest over time.
"That raises some differences that are real," the president said. "Obviously, the operation to take out Osama bin Laden created additional tensions, but I had always been very clear to Pakistan that if we ever found him [bin Laden] and had a shot, that we would take it."
President Obama says "Pakistan not only has a responsibility but also a deep interest in dealing with terrorist elements that are still in their territory."